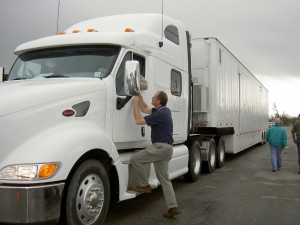 The American Truck Driving School is able to give professional truck driver training courses that will ensure that the student has the required skill level of any road transportation industry carrier. At American Truck Driving School of Michigan, there are four-week certified courses spanning 206 hours of hands-on as well as classroom teaching that will make the student fully qualified to take up truck driving as a career. There are Freightliners as well as International with Road Ranger of 9 and 10 speed transmissions as well as weighted forty-foot van trailers used to impart training to the students.The American Truck Driving School is situated on a campus that has many acres of land along with paved training areas that help in driving on a controlled course as well as learn genuine road condition driving.
The American Truck Driving School Has Distinct Training Methods
The approach of this American Truck Driving School is to know from the students what are their goals and ambitions. Then, this truck driving school enables them to pursue a career by ensuring that the students understand the Road Transportation Industry. It may mean more than just driving on the road because everyone needs to begin with over-the-road driving lessons. The school provides ongoing education that teaches every aspect of the industry and aids in forming strong roots as well as imbibes a high sense of integrity in the student.
In 1978, the American Truck Driving School of Michigan, Inc. was established in the State of Michigan. It is located on many acres of real estate and the school thoroughly and extensively prepares the student to drive as well as test the vehicles to impart greatest possible education and skill levels for the students. The Training Center has buildings that are specially designed for administrative, classrooms, and laboratory for vehicle maintenance. In total, these buildings take up more than 18,000 square feet of space and the teaching facilities are ideal for students that are enrolled full time. In addition, the campus driving area is made up of hard surface blacktop and there are also fences along the perimeter to protect the students, equipment and facilities. Also, the courses at this American Truck Driving School exceed all the minimum requirements for every motor carrier.
Filed under: Trucking